Retaining Wall Installation Services Wisconsin Relies On
Lake Geneva Area Landscaping Contractors Design Beautiful Outdoor Spaces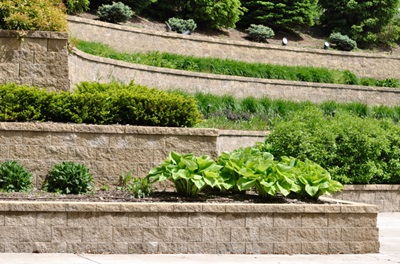 Arbor Earth & Stone employs skillful landscaping craftsmen who install meticulously designed segmental retaining walls in Wisconsin including Lake Geneva, Lauderdale Lake, and Lake Country areas. Our years of experience and dedication in the commercial landscaping industry have created an exceptional team of landscapers with an unmatched level of expertise.
Installing retaining walls to control surface runoff and minimize soil erosion is a popular move among business owners. These highly attractive block walls are also installed solely for cosmetic purposes, creating a high-end landscaping finish. Whatever the case, all our retaining walls are built to last, here at Arbor Earth & Stone.
Retaining walls or any other brickwork construction requires extensive planning and precise craftsmanship. Unlike other landscaping companies in Wisconsin, we exceed both requirements. Our proficient team ensures your entire project will be completed on-time and to perfection.
Retaining Walls Fit for Commercial Businesses
Arbor Earth & Stone works with you the entire way during the construction process. With your given budget, we create a wall design to complement the exterior of your business building while serving its true purpose.
Hardscaping is both a science and an art, considering all aspects of your property from top to bottom. From understanding the grading of the terrain to considering future landscape developments, our work is designed to seamlessly accommodate all factors.
With our extensive experience in landscaping and building retaining walls, no job is too challenging. We transform the barren land surrounding your business into a stunning, beautiful landscape which will significantly increase the value of your business and never go unnoticed. We provide this same quality when installing residential retaining walls.
Crafting Retaining Walls from Start to Finish
Leave it to Arbor Earth & Stone to handle every aspect of your commercial retaining wall construction. Beginning with initial excavation, and continuing through the entire process, your business will be left looking immaculate. You won't have to worry about customers or clients complaining about the mess.
Our hardscaping contractors are professionally trained in every job detail, ensuring the entire project is up-to-code and done correctly. Any necessary land grading will be pre-determined by an engineering survey evaluation, certain your landscape regulations are met. Learn more about retaining walls now.
Reliable Brick Products
Arbor Earth & Stone utilizes only the highest quality products on the market to ensure each new brick design is built to withstand daily wear and tear. Our commercial retaining wall contractors only use the best brands and materials to ensure every wall is constructed as safely as possible.
Our retaining walls are constructed from only the best brick brands, which include Keystone, Allan Block, Rockwood and Unilock. These premium retaining wall products meet critical standards for block quality and physical tolerances. The bricks themselves often feature varying colors, sizes, and patterns for an extra specific appearance.
Retaining walls are made from many different materials, range in size and serve a variety of purposes. From stacked stone walls, boulders walls, poured or veneered walls to segmented retaining walls, Arbor Earth & Stone creates dream landscapes exceeding your highest expectations. Browse our entire Wisconsin area landscaping gallery now to see our finished landscaping designs.
Contact Lake Geneva's top landscaping company today for a free retaining wall design quote anywhere in Wisconsin.