Outdoor Living Spaces for Year Round Enjoyment
Functional Outdoor Space Designs Bring Indoors Out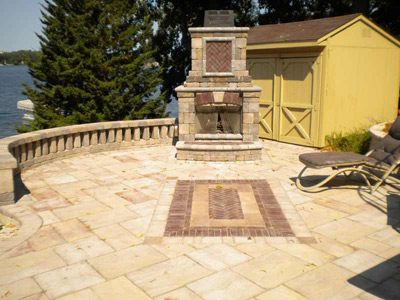 Arbor Earth & Stone specializes in outdoor living design ideas which create warm and welcoming outdoor living spaces. From a fireplace to a patio, commercial properties with creative outdoor areas are sure to impress their clients and customers.
Our outdoor designs act as extensions of your commercial property. We fuse your indoor living area with the exterior of your business to create an enchanted outdoor living space. This completely customized outdoor space not only mirrors your lifestyle, it is a reflection of you and your business.
A Warm Place to Gather
Whether it's an outdoor fire pit or a full-on outdoor kitchen, Arbor Earth & Stone can transform any back yard into a place for both entertaining and relaxing. One of the most popular and affordable options is an integrated fire pit and sitting area. These circular spaces incorporate a fire pit in the center with a brick or stone sitting area encircling the fire pit.
Restaurants with outdoor dining areas especially love to have either a fire pit or outdoor kitchen installed by our team. A fireplace allows outdoor seating sections to remain open longer, even as the temperatures begin to drop. An outdoor kitchen setup makes it easier for the wait staff to deliver food, rather than having to run inside for every dish.
Artful Masonry Work in Patios and Retaining Walls
Our stone masons have extensive experience designing and building patios, walkways and walls that blend in beautifully with the surrounding landscape. Working with a variety of stones and brick, as well as decorative stamped concrete, we create attractive, long-lasting hardscapes to enhance not only your enjoyment of your property but also its resale value. You can view some of our work in our Retaining Walls gallery and in the Paving gallery.
Outdoor Kitchens for Grilling Out and Chilling Out
If you love entertaining outdoors, consider an outdoor kitchen. Incorporating a grill with counters on either side makes outdoor cooking so much easier and more enjoyable. We can even construct a pergola over the cooking area to keep the hot sun off the chef. There really is no limit to what is possible. Let us know what you have in mind or have our designers come up with an original look for you. Either way, you will have a one-of-a-kind outdoor kitchen.
Outdoor space designs include:
Fireplaces
Fire pits
Outdoor Kitchens
Outdoor Grills
If you don't deal with customers directly at your location, you can still benefit from an outdoor gather space. A fire pit is a warm place for employees to take brief breaks throughout the work day and get a chance to enjoy some fresh air. Beautiful outdoor spaces are a great way to set your business apart from the competition.