Wisconsin Commercial Landscapers Design to Impress
Landscaping and Construction Services Completed by Industry Experts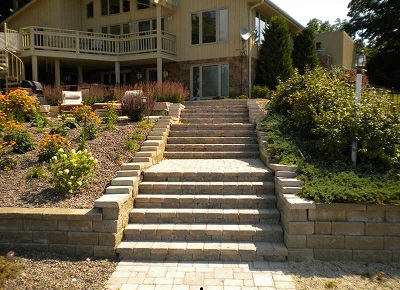 Arbor Earth & Stone provides a wide-range of commercial construction and landscaping design services in Wisconsin and the entire Midwest area. Our services range from traditional landscaping and remodeling to structural retaining walls and erosion control for large commercial buildings. Our widely talented team of industry experts have the proper skillset to meet all your landscaping and construction needs, large or small.
When it comes to Wisconsin landscaping, no one is better for commercial yards than the Arbor Earth & Stone contractors. We know which plants will thrive on your property and how to maintain plantings through all weather conditions. Whether your business is located on a lake or the middle of the city, we can enhance your outdoor areas with expert landscaping.
The Arbor Earth & Stone Experience Stands Above the Rest
Your Arbor Earth & Stone experience starts with a free consultation where we will go over all of your needs and visions to determine the best value for your budget. Whether you require a reinforced retaining wall or want to completely transform your property's yard, our professional landscapers will work within your exact parameters. From there, your visions will start to unfold.
Unlike other landscaping companies, we believe in collaborating with you to come up with the right look for your property. By communicating with you every step of the way, we will ensure your landscape design meets all of your needs. This allows you to remain completely informed of what is going on with your landscaping project. From initial concept to completion, Arbor Earth & Stone will meet your highest expectations.
Landscaping Architecture Taken to a Whole New Level
Arbor Earth & Stone utilizes both science and skill when it comes to creating your landscape design. To ensure your landscape or hardscape lasts, we take everything into account from the grading of your business to nature's distressing patterns like high sun areas or areas with excessive drainage. We also take into consideration any future development you may consider down the road so the final product will have a completely unified style.
The landscapers of Arbor Earth & Stone don't leave a job until it is complete and we are proud to call it ours. We not only build walls, we build relationships now, and for all your future landscaping ideas. Arbor Earth & Stone wants to be your future landscaper and complete all your project needs.
Contact the landscapers Lake Geneva relies on for professional landscaping and construction services.